This post may have affiliate links. That means I may make money if you click on a link and buy. Read my disclosure policy for more information.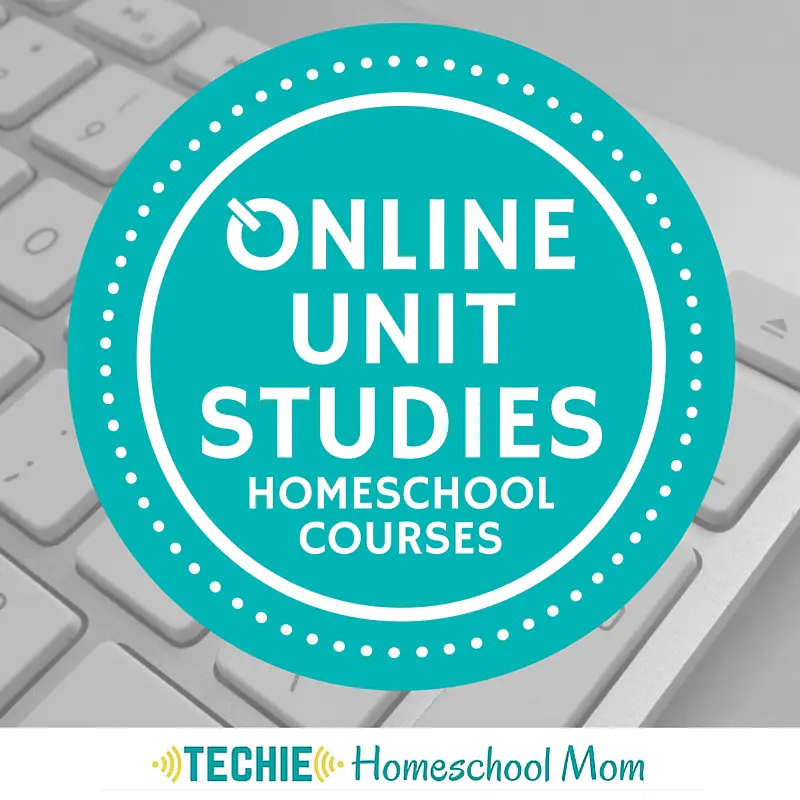 Online Unit Studies by Techie Homeschool Mom
Online Unit Studies is one of my favorite tools as a working homeschool mom. This tool is so helpful to me because it's all online and through Techie Homeschool Mom's Teachable school. This program would have been great when all of my kids were younger. I am glad I found it now and can use it for my daughter's schooling. I want to talk about why you should consider using this in your homeschool regardless of what methods you are using or want to use.  There is a freebie at the end so stick around!!
Ease of planning
This is one of the most important reasons that I am recommending this program to all working parents.  I do not have to plan for anything except supplies if needed.  Beth Napoli has everything all ready and set up for you.  All you have to do is write down what lesson you want your student to work on each day.  All of the unit studies are in Teachable through her site (Techie Homeschool).  As far as supplies go, she would list them before the lessons.  The nice thing about it the supplies for projects are minimal as most are cloud-based.  I consider this program an open and go curriculum.  What this means is you can basically say work on lesson 1 on Monday, Lesson 2 on Tuesday so-on. It's very easy to use and very little planning!!
Choose your own pace-self paced
You decide the pace you want your students to go through the unit studies.  Its ultimatley your decision.  In most cases of the online unit studies your students can complete one module in one sitting.  If you decide to do one module a week, that is fine too.  There are no wrong paces.  Its one of the things I love about Techie Homeschool Online Unite studies.  I will share with you my pace.  We do the study 45 min twice a week.  So we picked Tuesday and Thursday as the days my daughter will go through a study she chosed.  She will do this for 45 min at a time and then close the program until next time.  You can opt to do 30 min a day to get through the study faster so you can pick another one. That is not a problem!!
 No books or piled papers
Everything is online.  All the videos, ebooks and anything digital is all in the program.  It's simple as turning the computer one and clicking the website that has the study your child is working on.  Gone are the days of trying to find a book, DVD or paper that got lost or misplaced.  I remember those days where we couldn't find a book.  The only material that you would need for this is a computer, internet and your small list of supplies for your projects.
Budget Friendly
The prices of the studies range from $8.00 to $35.00.  There are several studies where there is a bundle of 2 or 3 studies for $55.00.  It's definitely doable with my budget. As working parents, we are always looking for the curriculum that fits our budget.  There is a study available on Techie Homeschool website that will fit all budgets.  Remember I have a freebie at the end.
Easy to use
It's very easy to use for any techie kid.  Most kids are a techie and know more about computers than we do.  We can do it right along with them, so yes its easy for everybody. Even grandma can do the studies on her own.  When a lesson/module is done, all you have to do is click complete and continue at the top of the screen.  It's as simple as that!!  Just open, click and go!
Kids will socialize
You probably are shaking your head right now. Yep, there is socialization in the studies.  Kids can comment at the bottom of each lesson.  Your child might meet somebody that lives a thousand miles away or right in your own neighborhood.  I have read the comments myself and some are funny. Its neat to see the kids talking online.  Its another way beat the big socialization question you may get from other people.
Freebies and more information
As of right now, there are 19 Unit Studies offered and more coming.  Beth Napoli is working on more studies.  There is a freebie (for new users only) for you that is offered by Beth Napoli.  This study is all about Vincent VanGogh. If you are new to Techie Homeschool Online Unit studies, check it out here: Free Vincent VanGogh Online Unit Study
Hurry and get your freebie online unit study to try!!

Let me know how you liked the freebie in the comments below.  I would love to hear from all of you that tried it.  Lastly, If you are looking for more online courses, get The Ultimate List of Online Courses for Homeschooling